Amateur Radio
Last updated 28 MAY 2007.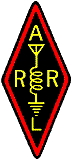 I have been an amateur radio operator since 1976. I hold an Amateur Extra license.

See pictures of my radio shack.

I am past member, president and secretary of

I am a member of

I enjoy chasing DX (talking to operators in other countries, especially ones in which I have never talked to an amateur operator before), working special event stations and general rag chewing.

I am a trained weather spotter. There are some good weather links at Northern Illinois Multi-County SKYWARN Network

See more amateur radio links on my Web site.
---
73, WB9VGJ
---